NTCR were recently invited by Rogers TV to talk about our cats, fundraising and the Save NTCR campaign with Sarita Patel, on the daily talk show The Bulletin Board.
We recorded three sessions with them on 4th, 18th and 25th April, each of which aired more than 20 times in the following weeks.
We've attached the links below so that you can enjoy them.
If you have any questions or wish to become involved in our fundraising, please contact Donna Cox or contact us via Facebook.
4th April – Donna talks about choosing the right cat for you, and introduces some of our beautiful cats, Garbo and Ruffles.
Watch here: http://rogerstv.com/page.aspx?lid=237&rid=70&gid=251491
18th April – Jacqui talks about fundraising for NTCR and how people can get involved as volunteers or fundraisers.
Watch here: http://rogerstv.com/page.aspx?lid=237&rid=70&gid=251446
25th April – Jacqui talks about Save NTCR, the loss of our shelter, and our goals for 2016.
Watch here: http://rogerstv.com/page.aspx?lid=237&rid=70&gid=251489 
---
Save NTCR!
NTCR was established by Donna Cox, whose ambition was to take vulnerable cats off the street and bring them in to a secure environment, where they live in complete safety until they find their permanent home. In 2008 NTCR moved in to its current shelter location, and approximately 160 cats are living at the shelter today, away from the horrors of the street and the harsh lives they previously led. Over the years, more than 2,400 cats have benefitted from the services of NTCR and are now living the lives they deserve as part of a loving family. However, the future of the current cats, and others like them who still need to be rescued from the streets, are uncertain due to the planned demolition of the shelter June 2017 to make way for property development.
NTCR needs your help to ensure these cats remain safe and secure. They need to find a new shelter location, and need to do it fast!
The consequences of not finding a new property are impossible to consider, with the cats facing either a treacherous life back on the streets or being relocated to other rescues in the GTA where those unable to find a 'furever' home will face probable death. NTCR is the only no-cage and no-kill facility in the GTA. It also receives no financial support whatsoever from the Province or City, and all funds come in via adoption, sponsorship and donations.
NTCR is run entirely by volunteers and operates purely on donations and the generosity of its supporters. Its intake policy is non discriminatory, and cats come to the shelter from all over the GTA and even as far as Quebec. If the need is there, NTCR will do all that they can to respond and rescue any cat. Every life is precious.
The challenge therefore is to buy or rent a new property or a plot of land, complete renovations and relocate all of the current cats quickly and safely. This of course comes with a significant price tag, with the cost of purchasing a property likely to exceed $1m. This is where your help is desperately needed to save these precious animals.
The first stage of the journey is to raise enough money to do all the preparatory work, including: searches, land or property downpayment, satisfy legal and regulatory requirements, etc. Having this in place will put NTCR well on the way to relocating to a new location.
Without this money NTCR will fail to exist and this is just not an option. With your help, NTCR will continue to offer security for its current cats and any new cats that come through its doors. No donation is too small, and you can be assured that every single dollar raised will go towards providing essential shelter and support for the cats.
We Are Their Voice – North Toronto Cat Rescue Documentary
Or you can send a cheque or money order to:
---
North Toronto Cat Rescue – A No Kill Sanctuary

We need your help!
This means that when a cat arrives at the shelter injured or ill, we do everything humanly possible to save her. The good news is that this almost always results in a cat on its way to recovery; the bad news is that this always results in considerable vet bills!
We believe every life deserves a chance; our no kill policy also means that our cats stay with us longer than they would in most shelters; this in turn results in an increased need in long term financing for each cat.
Registered Canadian Charity: Tax Receipts Provided (Number 83607 9673 RR0001)
Every donation is gratefully accepted
You can help us to help them by bringing them out of the cold, treating their injuries and ailments, giving them shelter for the duration they need to recover, heal and regain their faith in humans.
In winter, your donation can help cover the costs of heating, thus truly keeping our kitties out of the cold.
Running a shelter is a financial challenge in every way; there are numerous ways your contribution can benefit its feline residents.
Your dollars can go go toward the spay/neuter program which is crucial to reducing the numbers of strays living horrendous lives on the streets.
$2.00 a day would cover the cost of food for one colony cat for one day.
All shelter workers are strictly volunteers. None of our volunteers are paid. In fact, in most cases, our volunteers are donors too!
We are a registered charity and can provide receipts for income tax purposes.
We would be honored to accept donations in memory of pets who have passed away.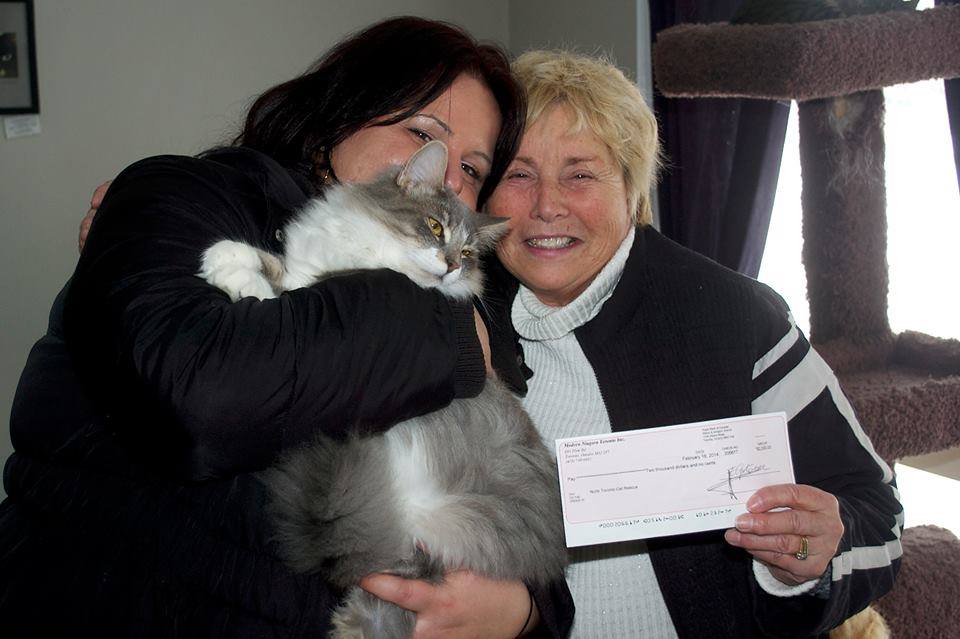 Donations can be made quickly and securely online via: