For the past two weeks at the shelter there has been a lot of yowling and caterwauling going on. As you approach the room to see what the problem is, the noise stops……. Last week, I was sure I could discern a tune and actual words. It sounded like:
Midnight
Not a sound from the pavement
Has the moon lost her memory?
She is smiling alone
In the lamplight
The withered leaves collect at my feet
And the wind begins to moan
"No. Can't be." I said to myself.
A few days ago, the same thing happened when I was sure I heard:
Oh! Well I never! Was there ever
A cat so clever as magical Mr. Mistoffelees
What's going on at the shelter?
The mystery has been solved today when all of the volunteers received the following invitations. Our cats are planning a special event for all the volunteers. Aren't they the most considerate and "giving" pride? All the volunteers are VERY excited about the upcoming event.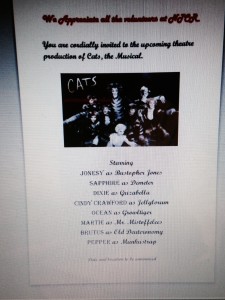 Not sure you can read the invitation. It says:
We Appreciate all the volunteers at NTCR
You are cordially invited to the upcoming theatre production of Cats, the Musical.
Starring
Jonesy as Bustopher Jones
Sapphire as Demeter
Dixie as Grizabella
Cindy Crawford as Jellylorum
Ocean as Growltiger
Martie as Mr. Mistoffelees
Brutus as Old Deuteronomy
Pepper as Munkustrap
Date and location to be announced