To Donna and the wonderful volunteers at North Toronto Cat Rescue,
I can't thank you enough for caring for MoMo (formerly Jewel) and then uniting us. You took the time to get to know me, understanding my lifestyle and somehow knowing exactly which kitty would be right for me.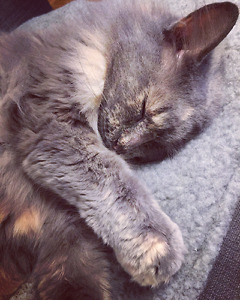 MoMo's journey to the shelter and then to her furever home was filled with rapid and numerous transitions, leaving her nervous and anxious. Her trip home was stressful, resulting in a self-inflicted injury on her nose. Your kindness, patience and support in the days that followed made this transition so much easier. I can't thank you enough for our near daily chats. You eased my fears, advised me on how to best care for her nose boo-boo, and gave me tips on how to transition MoMo to the healthiest diet possible.
I can't thank you enough for the work that you do. NTCR is so much more than a shelter! Your love, commitment and passion is inspiring. Your ongoing support after adoption made me feel secure and confident as a first time pet owner. MoMo and I are so happy and content to be together. During the day, she sits under my chair as I work from my home office. At night she asks for cuddles on the couch and copious amounts of brush time. Haha!
Her nose has not yet healed completely, but I wanted to share some photos of our pretty girl!
PS – MoMo means peach in Japanese. Her beautiful grey coat is peppered with patches of pale peach – isn't she is purrfect?!
Lots of love from,
Christina and MoMo