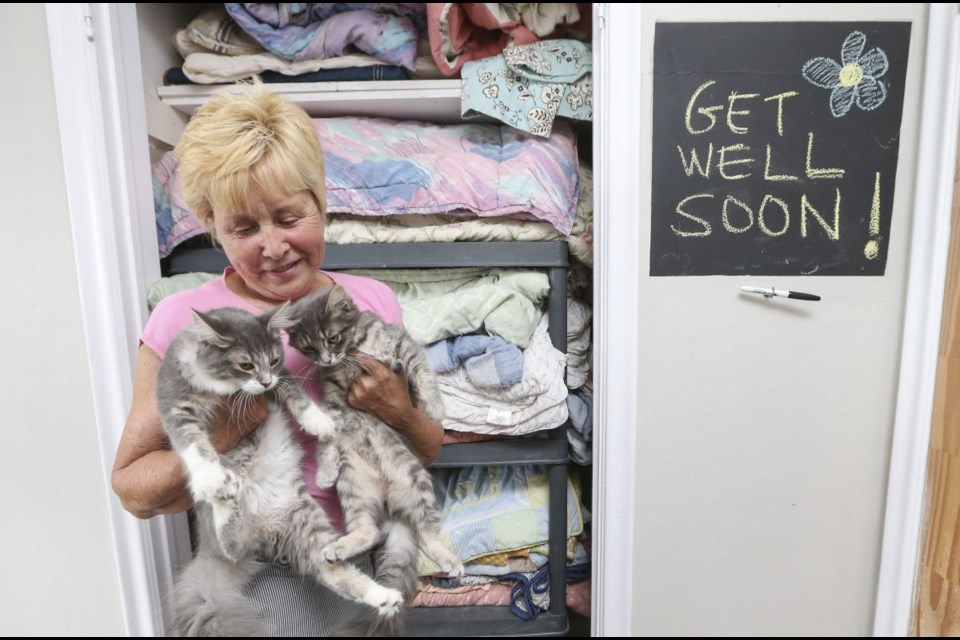 ---
"Pawlease" Help Us Move to Our Fur-ever Home!
https://www.gofundme.com/f/were-on-the-move-pawlease-help-us
Drum-roll, paw-lease! After a decade of searching, we now have a permanent property to call home.
But, like the old axiom "so near, yet so far," we still have a way to go. And so, we're reaching out to YOU for the final funding we need. Please visit
https://www.gofundme.com/f/were-on-the-move-pawlease-help-us
to contribute, share it with your family, friends, and followers, and stay tuned for progress reports.
---
"Happy Thanksgiving to ALL from NTCR"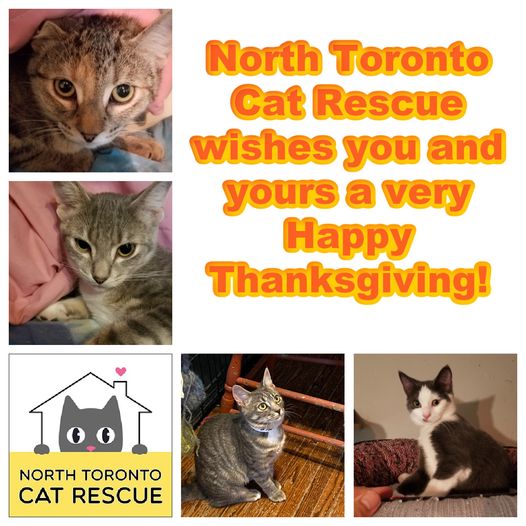 HAPPY THANKSGIVING Weekend to you and yours from ALL of us at North Toronto Cat Rescue and what an appropriate time to share "our" thankful and exciting news – After 33 years of non-stop rescue, North Toronto Cat Rescue has finally now found our own permanent home – a place for the abandoned, abused, discarded souls – a place where love lives. However we really, really need your support to afford to continue our no-kill facility without any government funding – ever –.
Every dollar "matters", is appreciated and is used for food, never-ending Vet bills, litter and being able to provide warmth, food, safety, a temporary home and this adoption center – especially before Winter brings bone-chilling temperatures to so many still outside. Survival in Winter is certainly a struggle for so many.
If you are able to help us help "them", we would be truly grateful. Please donate either by cheque to North Toronto Cat Rescue 28 John Stiver Cres. Markham, ON L3R 9A8 or online via CanadaHelps: https://www.canadahelps.org/en/dn/10618 (Tax receipts are provided for all donations).
Further information will be shared as the days unfold.
And Yes, one extra happy reason to celebrate Thanksgiving this year!!!!
---
North Toronto Cat Rescue has the opportunity to purchase a small piece of land in the Aurora area to construct a new shelter. We are looking for a construction company who could help with this project. If you are able to help please contact Donna at (905)758-2287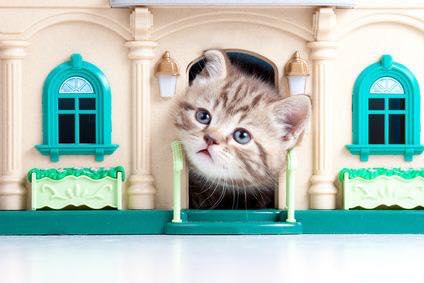 ---
---

---
NTCR Petition – Now Closed!!!

MAR 14, 2021 —
Our Petition is now closed and we were overwhelmed with over 76,100 signatures, comments, and support. We are so very grateful to each and everyone who signed, commented, reached out, and shared our Plea. We personally found it extremely sad that we received not one response from any elected official – the Premier, the Mayor of Vaughan or any of the Councillors despite having left many messages asking for their support and as they are aware, our "House of Love" now remains empty.
We and our Realtors have been diligent in searching for a new shelter. Once again we are asking for your help should you be aware of any available space – either temporary or permanent. And we continue to need your financial support to make it happen.
Although our cats and kittens remain safe in foster care, there are so many calls for help on a daily basis and we desperately would like to be there as we have been for the last 33 years. Thank you ALL once again for also caring.
Donate to NTCR channels:
GoFundMe: https://gofund.me/f2ffc49c
CanadaHelp: https://www.canadahelps.org/en/dn/10618
PayPal Giving Fund: https://www.paypal.com/ca/fundraiser/charity/3454402
– Rescuing one cat won't change the world but it will change the world for that one cat!
VAS Response
Press Reports
Cat rescue charity continues battle with Vaughan for licence to operate shelter (Feb 27, 2021)
Petition to save Toronto cat shelter garners 70k signatures but it still has to relocate – BlogTO (Feb 25, 2021)
'Please help us': Vaughan cat rescue scrambling as eviction looms due to licensing issue
Vaughan forcing no-kill cat shelter to relocate animals by March 1 due to zoning, licensing rules – Vaughan Citizen / Toronto Star (Feb 17, 2021)
Cat rescue charity faces eviction, fears cats will be seized – Toronto Sun (Feb 11, 2021)
多伦多猫咪机构被迫关门 或将被安乐死 (Feb 10, 2021)
Toronto Cat Shelter being forced to get rid of its cats by next month – BlogTO (Feb 9, 2021)
Social Media Videos