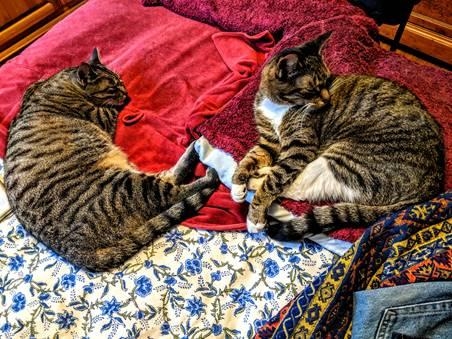 November 26, 2018
Hi Donna
It was a nice surprise to see our "little" Holly on the cover of your recent newsletter. It was nice to see a picture of her with those big ears that seemed too large for her head! She is doing very well. With lots of play therapy, her limp is almost gone and she has gotten quite good at jumping and running up and down our long hall. She has developed a friendly relationship with our other cat, and they sometimes play chase games together. And she has such a sweet nature. She has also filled out quite a bit – on your records she is listed as 3.5 kg; I recently introduced her to our vet, and she is now at 5.5 kg. It turns out she has a very big-boned frame. She must have been starving for quite a while before she came to you to look so small.
I will attach a more recent photo. The people who trapped her might be interested to see the change.
Thanks again for hooking us up with her.
Steve