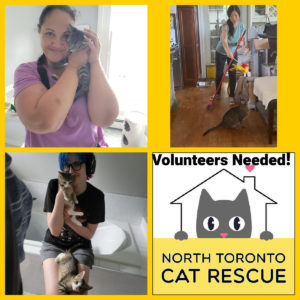 At NTCR, our Volunteers (lovingly known as our mus-CAT-teers!) are our lifelines. And we are always in need of dedicated and passionate folks who can support the shelter with various activities, from feeding and care for our rescued cats to cleaning, fundraising, and other essential tasks.
If you love cats and can spare a couple of hours each week, please contact us using the form below. Our Volunteer Coordinator will be in touch with you as soon as possible.
Please note, the shelter is located in the

North of Newmarket

area.
Applicants must be 16 years old or older.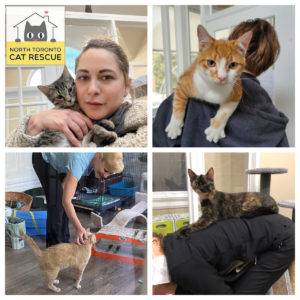 Here are a few areas where we could use your help:
Feeding & Socializing
Cats and kittens need a lot of human interaction to make them feel more at ease when potential adopters visit. We need volunteers to play with, pet and groom our cats and kittens to prepare them for adoption as soon as possible.
Cleaning
From sweeping and mopping to washing windows to laundry, we need volunteer help to keep our premises clean and sparkling for our furry friends.
Fundraising Events
Help plan or participate in fun community events to raise awareness of NTCR and the work we do.
Transportation
We sometimes need help transporting cats to and from their vet appointments.
Administration
We could always use support in administrative tasks such as database management, printing tax receipts and others.
Marketing
Help us get the word out through events, handing out flyers, promotional tie-ups and sponsorship activities.
Handy with tools?
If you're skilled at building things, maintenance, and repair work, we could use your talents. There is always a need to patch, paint, hang things, or caulk windows!