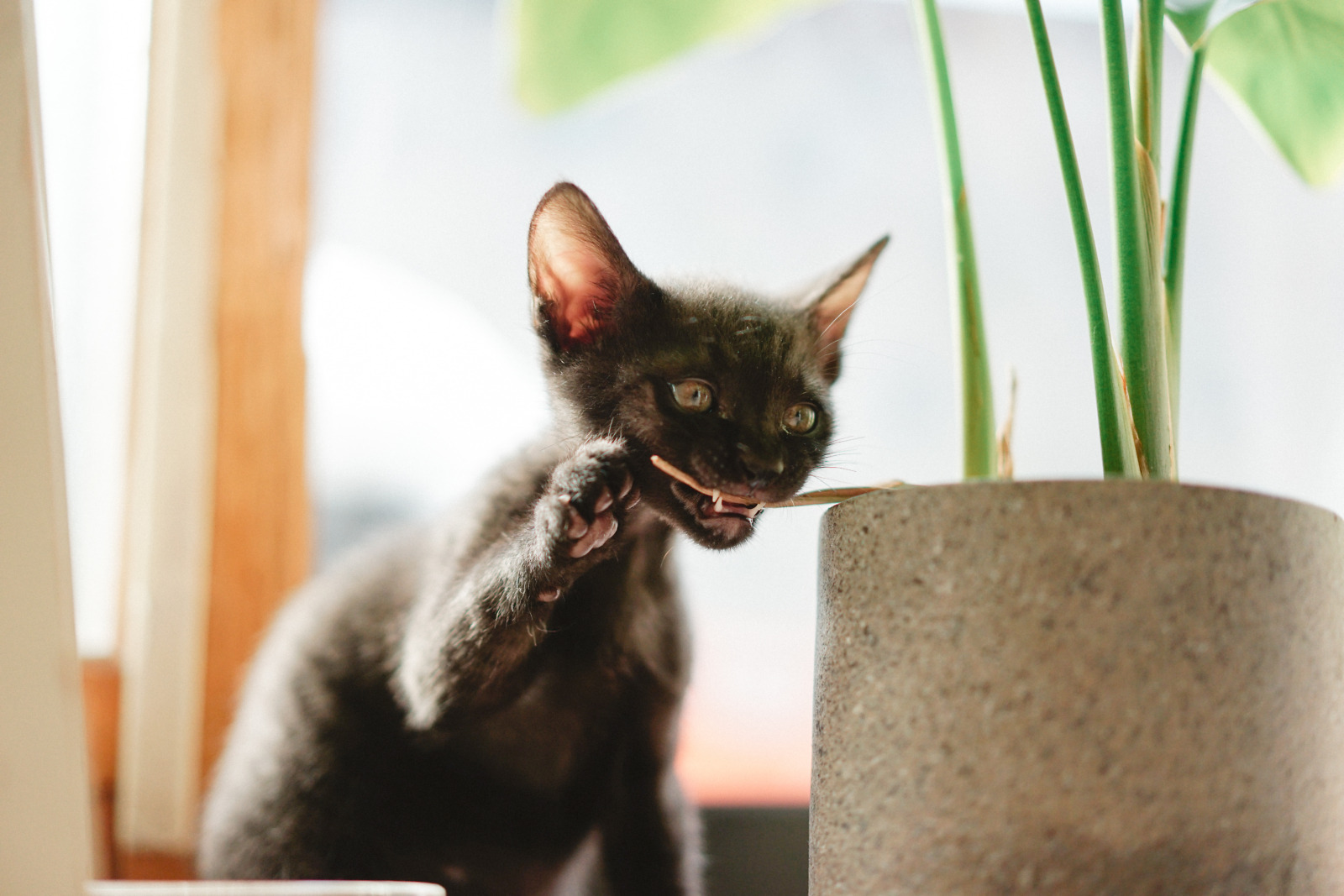 by Nomi Berger
Although "appropriate" chewing (to relieve the pain of teething, for example) may be acceptable in kittens, it's far from acceptable in fully-grown felines.
Contrary to the old adage, curiosity may not kill your cat, but introduce chewing into the equation, and curiosity can certainly cause both hurt and harm. Some of the many tempting targets for little mouths and teeth — as any experienced cat guardian knows — include human fingers and hair, cardboard cartons and electrical cords, purse and shoe straps, shoelaces and socks. And since excessive chewing can eventually erode the surface of your cat's teeth, this, in itself, is reason enough to find ways to exchange old habits for new.
Because boredom and its resulting stress bred by inactivity is one of the main culprits behind a cat's inappropriate chewing behavior, replacing inaction with action is the simplest solution. Consider then, the following ways to re-direct your own kitty's unspent energy towards more acceptable, more satisfying outlets.
(1) If your cat is young and possibly experiencing the final pains of teething, provide her with a tempting assortment of chew toys to gnaw on. Starting early is the surest way of keeping her on the "straight and narrow" as she matures into full-fledged adulthood.
(2) Change the type of food you feed your kitty or add healthy, low calorie treats to her diet. Some felines favor the tantalizing and crispy crunch of dry food, while others relish the challenge of munching on freeze-dried cat treats.
(3) Augment your cat's diet with various, natural grasses grown in your own, home made and hand sown miniature cat garden. Not only do these sticks, strands and shafts of wonderfully waving green provide her with some succulent snap, crackle and pop, but those same green and growing grasses can alleviate some of her boredom by virtue of being nature's own play toy.
(4) Minimize her boredom by creating her own, unique form of feline amusement park — from cat play structures and stepped "highways", puzzle toys and videos, to cat tunnels and catios – that invites her to exercise and play. This will ensure that she's kept both emotionally stimulated and physically satisfied.
(5) Strengthen your own personal bond with your kitty and keep both her boredom and stress at bay by engaging her in interactive playtime at least once a day.
(6) Should your puss's penchant for inappropriate chewing persist or intensify, take her to the vet for a thorough medical and dental assessment. Then, if she's found to be in the pink of good health, consider consulting an animal behavior specialist to work with you on various management techniques that you, in turn, can use to turn kitty from cheeky to cheery.